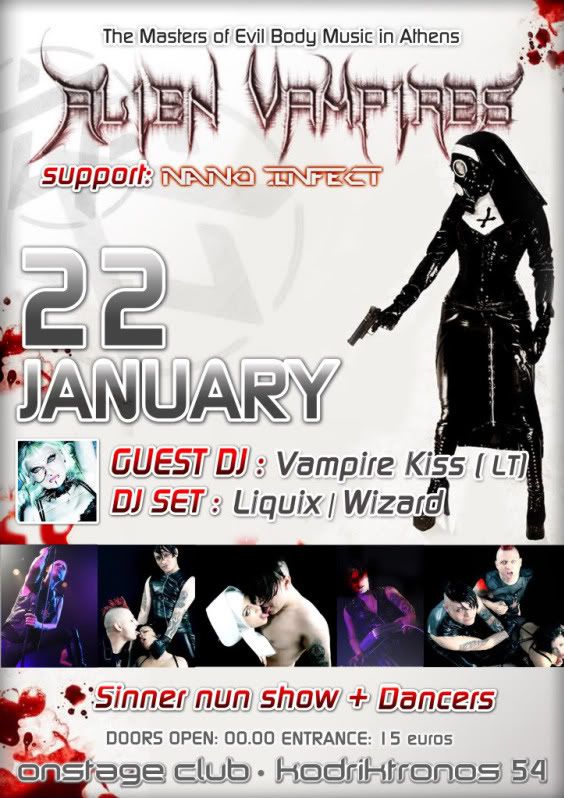 Το Live των Αlien Vampires είναι γεγόνος. Έρχονται για πρώτη φορά στην Αθήνα για μια και μοναδική εμφάνιση!!! Mετά την επιτυχία τους στα μεγαλύτερα industrial club του Λονδίνου όπως το Slimelight, υπόσχονται μια δυνατή μουσική βραδιά στο OnStage!
Παρόλο την Ιταλική καταγωγή τους o Nysrok ιδρυτής των AV με τον Nightstalker έχουν ταξιδέψει από Αμερική ως Ευρώπη με ισχυρές συνεργασίες με μπάντες όπως οι Suicide Commando (http://www.youtube.com/watch?v=eWyHr10qFNg)
Χαρακτηριστικό τους η pervert ηλεκτρονική μουσική συνδυασμένη με black metal στοιχεία (ως γνωστό ο Nysrok ήταν στην black metal μπάντα Aborym) και θεματολογία γύρω από την σεξουαλική διαστροφή και αμαρτωλές καλόγριες.
Guest Dj η sexy Vampire Kiss από Λιθουανία, θα σας καταπλήξει με τα μουσικά set της. Έχει ταξίδεψει σε διάφορες πόλεις της Ευρώπης και θα είναι Αθήνα για ένα μοναδικό Dj Set στο OnStage μαζί με το live των AV.
Εκτός από τη συναυλία και τα δυναμικά Dj Sets θα έχετε την ευκαιρία να δείτε μια "αρματωλή" καλόγρια σε ακραία αιματήρη εμφάνιση κατά την διάρκεια του live και χορεύτριες να ανεβάζουν την διάθεση.
Djs: Liquix+Wizard Guest: Vampire Kiss
Sinner Nun show+Dancers
Entrance: 15 euros
OnStage Club Κοδρικτρώνος 54 (πλησίον ΗΣΑΠ Βικτώριας)
Alien Vampires is an Italian aggrotech project with black metal incluences formed by Nysrok Infernalien (ex-Aborym).
They are infamous for their explicit lyrics, notably nun fetish and provocative promo photos.
Their tracks are based on aggro-tech style, but many features distorted guitars and blastbeats in the vein of Aborym's industrial black metal.
Although Nysrok formed Alien Vampires in 1998, nothing was released until 2005, as he was busy being the guitarist of Aborym.
By the time the first official album was released Nemesis and Daryl joined the band.
On the next release Daryl was replaced by Nightstalker.
Later Nemesis also left the band. On their latest album (Fuck Off And Die) the aggro-tech Suicide Commando and the dark ambient In Slaughter Natives make guest appearance.
*** Special nun show by Ms Vanity during the live act!!!***
Discography
I'm dead fuck you
Evil Generation (2005)
No One Here Gets Out Alive (2007)
Nuns Are Pregnant EP (2007)
Fuck Off And Die (2009)
Members:
Current :
Nysrok Infernalien (1998 - ) - vocals, synthesizer, guitar
Nightstalker (2007 - ) - drums, synthesizer, programming, mixing
Former :
Daryl (2005-2006) - drums
Nemesis (2003-2007) - guitar, synthesizer
Also the night of Jan 22 of 2010 Alien vampires are going to be supported by the band called Nano Infect (GR).
Dennis (a.k.a Lunarian) & Sakis (a.k.a Synthetic) had seperate projects back then called Lunarian and Raziel.
In Spring 2008 they were talking about cooperation between the projects but the came up with the idea to cooperate musically and to produce something aggresive in our technological and virtual age. The name that arised of this cooperation is Nano Infect.
This word includes the Nano technology (our virtual and technologically inspired age and the infect as everythings turns into technology.
The two members of NI are currently working on the tracks of the first album which will be called "Gas Chambers".
The demo concerning the side of NI is done… PLasmaG from [CYLIX] has the duty of mixing and mastering the tracks…pretty soon the demo will be in our hands and since there's a new member behind the keys called Insomnia-X all three members are looking forward…
NI are alreay finished five brand new songs called Abortion(feat.Child From The Crypt), My Confession, The City Of Sins & The Dead Are Marching…
Due to luck of time Insomnia-X is no longer a permanent member also the mastermind of NI SynthetiC decided to keep NI as a solo project with the past members as session members…
Guest dj set by Vampire kiss (Lt)
Vampire Kiss is a well-known party organizer and band promoter who has recently came forward as an uprising cyber/gothic/fetish party DJ.
Vampire Kiss displays a unique style that immediately bewitched the dance-floors around Europe.
She has already made her debut in Lithuania, Italy, England, Belarus and others. Her sets vary from EBM to electro industrial rhythm n noise and anything in-between, and more importantly her sympathies lie not only towards well-known club hits, but newly born talents as well.
The constant search for the first-class fresh material is defining the style that Vampire Kiss proclaims.
Also on the decks Dj Liquix and Dj Wizard promises a night full of terror and violence. With Electro, EBM, Industrial, Gabber, TBM, Hardtrance sounds and all night go-go dancers.
LINKS & Contacts(Feel free to ask anything):

www.myspace.com/nanoinfect


www.myspace.com/acherontas666
www.myspace.com/infernolust
www.myspace.com/vanityanneal

E-mail us @ : heavensinversion@hotmail.com