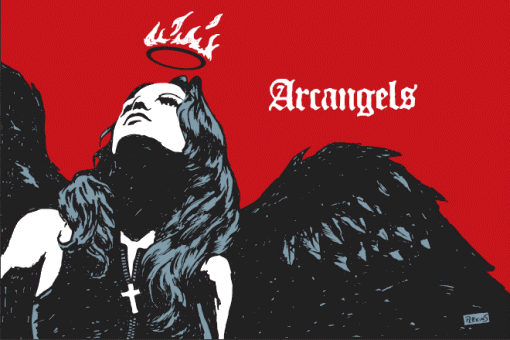 Arc Angels are a blues rock band formed in Austin, Texas in the early 1990s. The band was composed of guitarist and singers Doyle Bramhall II and Charlie Sexton and two former members of Stevie Ray Vaughan's band Double Trouble, drummer Chris Layton and bassist Tommy Shannon. According to Bob Meredith of Allmusic the "ARC" in the band's name came from the Austin Rehearsal Complex where the band first started jamming before releasing their 1992 debut album.
Bramhall's heroin addiction and internal friction caused the breakup of the band in 1993. The Arc Angels broke up in October of that year, concluding their run with a series of farewell concerts at Austin's Backyard outdoor venue. Beginning in 2002, the Arc Angels have since reunited for occasional live performances.
In recent years, Bramhall has played guitar in Eric Clapton's band and toured with Roger Waters. Charlie Sexton has toured with Bob Dylan. Meanwhile, Layton and Shannon have recorded three albums with the Texas soul quintet Storyville. They have also backed such artists as Buddy Guy, Kenny Wayne Shepherd and John Mayer.
In March 2009 the members of Arc Angels, minus Tommy Shannon, announced that they would be reuniting, releasing a DVD of concert footage taken during 2005, touring extensively and beginning work on their second album. The DVD will also contain two new songs.
Nearly eight years after headlining the Austin City Limits Festival, the Arc Angels have decided to reunite and record new music, as well as release a Live DVD/CD. This time, the band consists of original members Bramhall, Sexton and Layton only.
Παρέλαβα το live album CD/DVD + Βonus CD με νέα κομμάτια την περασμένη εβδομάδα και το λιώνω. Όσοι γουστάρετε blues rock, Τεξάνικο ήχο, SRV (ως επιρροή και όχι απόπειρα κλωνοποίησης) πρέπει να τους ακούσετε.
Και θα ανοίγουν και τις συναυλίες του Clapton με τον Winwood στην Ευρωπαϊκή περιοδεία του Μαϊου! 8)