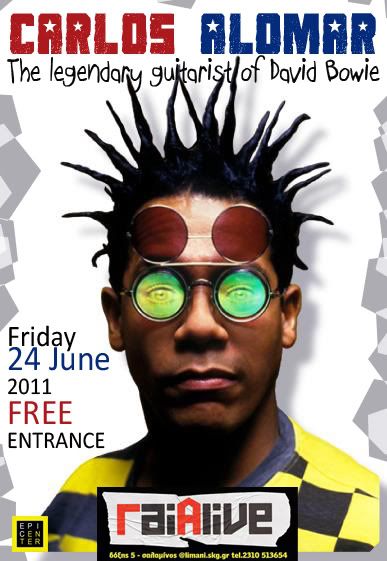 Principal Club Theater proudly presents (at GaiAlive) an evening with:
CARLOS ALOMAR
Ο θρυλικός κιθαρίστας του David Bowie και όχι μόνο!!!
…Παρασκευή 24 Ιουνίου 2011
GaiAlive
Είσοδος Ελεύθερη!!!
Με 32 χρυσά και πλατινένια άλμπουμ ο Carlos Alomar έχει γράψει ένα μεγάλο κεφάλαιο στην ιστορία της μουσικής! Ο θρυλικός κιθαρίστας, συνθέτης και ενορχηστρωτής βρίσκεται για 30 χρόνια στο πλευρό του David Bowie από την δεκαετία του ?70 μέχρι σήμερα, ο συνδημιουργός του πολυπλατενένιου ?Fame? με τον David Bowie & John Lennon. Επίσης γνωστός για τις συνθέσεις του όπως το ?She?s the Boss? την πρώτη σόλο προσπάθεια του Mich Jagger, το επιτυχημένο ?Sister Midnight? του Iggy Pop, και κιθαρίστας δίπλα στα μεγαλύτερα ονόματα της rock & pop σκηνής από τον Paul Mc Cartney έως τους Simple Minds!
Ο πουερτορικάνικης καταγωγής Carlos Alomar μεγάλωσε στο Bronx & Upper Manhattan της Νέας Υόρκης με τους ήχους της R&B και της θρησκευτικής μουσικής στην εκκλησία όπου υπηρετούσε ο πατέρας του ως πάστορας. Ο Carlos άρχισε να παίζει κιθάρα από τα 10 του χρόνια και γρήγορα σχημάτισε τα πρώτα του ροκ συγκροτήματα. Στα 17 του μόλις, αναδείχτηκε ως ο νεότερος κιθαρίστας στη σκηνή του Apollo Theater στο Harlem κερδίζοντας το κοινό με Motown hits από τους Supremes και τον Junior Walker! Λίγο αργότερα ως σταθερός κιθαρίστας της μπάντας του Apollo Theater είχε την ευκαιρία να παίξει δίπλα σε θρύλους της μουσικής όπως τον James Brown!
Η σύζυγος του Carlos η τραγουδίστρια και ηθοποιός Robin Clark είναι επίσης γνωστή από το άλμπουμ και περιοδεία ?Once Upon A Time? με τους Simple Minds, η δε κόρη του Lea Lorien βρίσκεται αυτή τη στιγμή στα διεθνή charts (#3 στα ελληνικά charts) με το ?How would you feel? του David Morales?
Το βιογραφικό του Carlos Alomar είναι τεράστιο!!! Ο πολυβραβευμένος Carlos όμως δεν είναι παρελθόν, συνεχίζει νέες συνεργασίες από την Alicia Keys μέχρι την Queen Laifah αλλά έχει γίνει και μια σημαντική παρουσία στον κόσμο της μουσικής εκπαίδευσης και μουσικής τεχνολογίας ως Distinguished Artist in Residence, Music & Technology στο Stevens Institute of Technology.
Την Παρασκευή 24 Ιουνίου έχουμε την τιμή να υποδεχτούμε τον Carlos Alomar στο GaiAlive, σε μια ιδιαίτερη εκδήλωση. Ο Carlos Alomar ζωντανά με την κιθάρα του θα μας ταξιδέψει στη μουσική ιστορία, θα μας διηγηθεί ανέκδοτες ιστορίες από την ζωή του με τους θρύλους της μουσικής και θα έχουμε την ευκαιρία να τον γνωρίσουμε από κοντά?
Some interesting facts about Carlos Alomar:
World class guitarist, Publisher, Song writer, Lecturer, Bandleader
Recipient of 32 Gold or Platinum records
Well known as David Bowie?s favorite guitarist/co-writer and musical director from 1974
His credits read like a who?s who in the Music industry. David Bowie, Paul McCartney, John Lennon, Mick Jagger, Iggy Pop, Alicea Keys, Queen Latifah, Mariah Carey, Nine inch Nails, Luther Vandross, Liza Minelli, Peter, Paul and Mary, Deborah Cox, Gloria Gaynor, Whitney Houston, Bruce Springsteen, Tina Turner, Yoko Ono, Bette Midler, James Brown, Wison Pickett, The Main Ingredient, The Bee Gees, Cyndi Lauper, Hen-G & Evil-E, Digable Planets, Carly Simon, Duran Duran, Simple Minds, Prefab Sprout, Scissor Sisters and the list goes on.
Co-founder of the National Rock Movement of Puerto Rico, and the person credited with discovering ?The Pavaroti of Soul? Luther Vandross, has been influencing the music industry for the last 30 years.
He has also produced many well-known Latin artists such as Soda Stereo, Wilkens, Charlie Garcia, Elan Chester, Fabiana Cantillo, and Alberto Fortis.
In Japan, Alomar received the Producer of the Year" award for his work with the jazz group-Casiopea. He has also worked with other well-known Japanese artist such as Taramasa Hino, Yuko Kusunoke, The Garage Project and Yukihiro Takahashi (from Y. M. O.).
His music has also been featured in films such as: "The Killers-2010", The Banger Sisters, 15 minutes, A Soldiers Daughter Never Cries, Usual Suspects, Copycat, Pretty Woman, Pretty in Pink, Next Friday and Christina F. Carlos has also scored 3 documentaries for the award winning director Barbara Koppel.
He has served the National Academy of Recording Arts and Sciences as a Governor, as the first Latino Trustee, as Chapter president as well as National Vice Chairman of the Board of Trustees for the GRAMMYS organization N.A.R.A.S.
His administrative experience has gained his Production Company (Guitarlos Ltd.) and Publishing Company (100 M.P.H. Music) numerous awards and Plaques from The American Society of Composers And Publishers (A.S.C.A.P), as well as The Recording Industry Association of America (R.I.A.A.).
In 2005 he received a TEC award for ?soloist of the Year? for his outstanding guitar work.
Ι n f o :
Οι πόρτες ανοίγουν στις 21.00
Είσοδος Ελεύθερη
GaiAlive ? Limani, Thessaloniki, GR - Τel: 2310.513654
Principal Club Theater sites:
www.principalclub.com