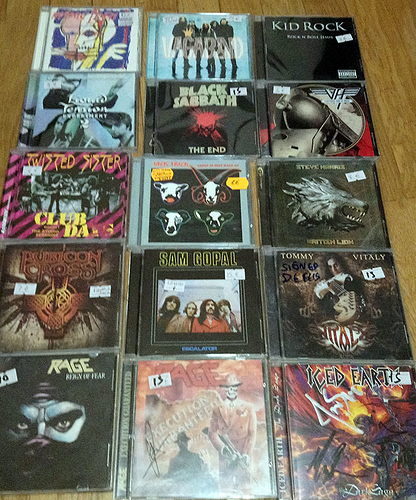 Manic Eden - S/T (Vandenberg απο Whitesnake project) Γαλλικό CD / VG + 12e
Vagabond - S/T (λιγο πολύ οι ΤΝΤ με τραγουδιστή τον Jorn Lande) NM - 18e
Kid Rock - Rock N Roll Jesus (περιεχει το hit all summer long) NM 6e
Liquid Tension Experiment - 2 (dream theater members) NM-- 7e
Black Sabbath - The END EP (προφανώς οχι το χάρτινο) - 15e
Van Halen - A different Kind of Truth - Η μεγάλη επιστροφή με Diamond Dave - NM 6e
Twisted Sister - Club Daze 1 - (Armoury edition) - rarities collection - NM-6e
Sack Trick - Kiss in Sheeps clothing (tribute στους kiss me dickinson, doogie white etc) 8e
Steve Harris - British Lion - Iron Maiden leaders solo album NM - 8e
Rubicon Cross - S/T (CJ singer of Firehouse) - NM 7e
Sam Gopal - Escalator (features a young Lemmy) NM 15e
Tommy Vitaly - Hanging Rock (Power metal with Latorre, Leven, Stevens etc) Υπ. Απο David De Feis. 15e
Rage - Reign Of Fear (REMASTER + Bonus) - (Soyouz) VG+/VG+ 10e
Rage - Execution Guaranteed (Remaster + Bonus) - (Sanctuary) NM- 15e
Iced Earth - The Dark Saga - Signed by Jon + Matt (+ hotel photos) 15e
Tour EP/CD Darkology 2014 + Tour shirt (με overkill/enforcer) -S/M/L/XL/2XL - 5e.