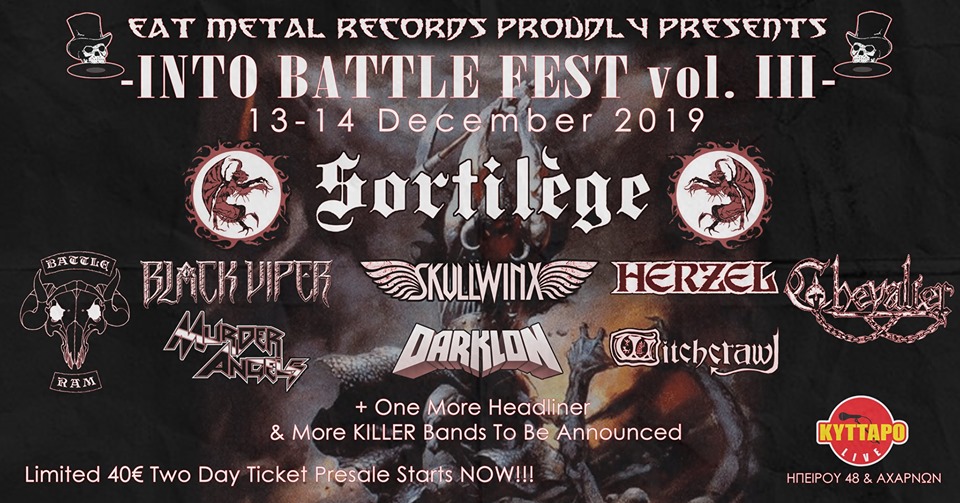 Eat Metal Records proudly presents INTO BATTLE FESTIVAL Vol.III
Our goal is to present an amazing mix of heavy metal bands that really KNOW how to deliver on stage.
No fillers here, only killer bands, and the truest underground spirit!
There will be 5 more bands to be announced soon,so stay alert!
Tickets are available NOW from the following record shops:
Sirens, No remorse, Metal era + Eat metal records.
Tickets for anyone who wish to buy online will be available from eventbrite, from 2/5/2019 !
The first 100 2 day tickets cost 40euro and will be available until 25 of May, or until they are sold out.
Daily tickets will cost 27euro, and 2 day tickets from 26 of May and afterwards will cost 48euro.
SORTILEGE ( FRANCE )
BATTLE RAM ( ITALY)
BLACK VIPER ( NORWAY )
CHEVALIER ( FINLAND )
HERZEL ( FRANCE )
SKULLWINX ( GERMANY )
DARKLON ( GREECE )
MURDER ANGELS ( GREECE )
WITCHCRAWL ( GREECE )