It's underground, rebellious, wild & outrageous…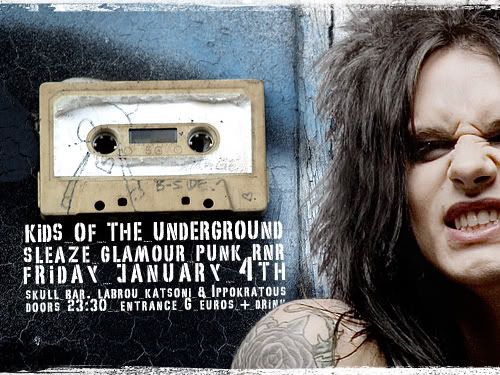 Kids Of The Underground Present:
Wild Sleaze, Glamour Trash Punk N' Roll on Friday the 4th of January 2008 @ Skull Bar (Labrou Katsoni 11 & Ippokratous - close to Alexandras) w/ Mr Izzy, DD & Ms.ViXX on the decks!!!
Sleazy, All-Glammed up Trashed-Up Punk Rock N' Roll from the likes of:
Rolling Stones, Hanoi Rocks, Michael Monroe, Guns N' Roses, Hardcore Superstar, Backyard Babies, Jetboy, Crash Diet, New York Dolls, Babylon Bombs, Joan Jett , Vains of Jenna, Loud n' Nasty, Skid Row, Velvet Revolver, Billy Idol, Suzi Quatro, Pretty Boy Floyd, Electric Boys, Aerosmith, Lita Ford, Cinderella, Motley Crue, The Dogs D' Amour, W.A.S.P, L.A. Guns, Star Star, Dangerous Toys, Izzy Stradlin, Kristy Majors, The 69 Eyes, Nasty Idols, Crazy Lixx, Tigertailz, Johnny Thunders, Vain, Conny Bloom, Enuff Z'Nuff, KIX, Soho Roses, Starlet Suicide, Cycle Sluts From Hell, Scarlet Rose, LOVE/HATE, The Runaways, Danger, Faster Pussycat, KISS, Adam Bomb, RATT, Joneses, Dead Boys, Crucified Barbara, Hellacopters, Eagles of Death Metal, Towers of London, Electric Frankenstein, The Donnas, Johnny Thunders, KISS, Richard Hell, Hanoi Rocks, Dead Boys, Lords Of The New Church, London Cowboys, Gunfire Dance, David Bowie, Hollywood Brats, Mott The Hoople, Faces, Devil Dogs, Kevin K, Freddy Lynxx…etc etc…you get the idea!!
[B]So put on your make-up, your brand new snake skin shoes, a bottle of red and get your self out on the town!
Onscreen: RARE videos + "Detroit Rock City" (1999)
Time 23:30, Entance 6 euros w/ drink[/B]
Supported by: Black N' Rose (Solwmou 16), Gunsnroses.gr, Gangbang Magazine, Rocking.gr & KISS ARMY Greek Division.
Lots of official band merch/goodies to give away!
First event : Friday 4/1. From then on, EVERY 1st & 3d THURSDAY of every month!
kidsoftheunderground@gmail.com